ALHAMDULILLAH NOW YOU CAN LISTEN TO AND BENEFIT FROM ALL OUR PROGRAMMES LIVE ON E-MASJID LINK BELOW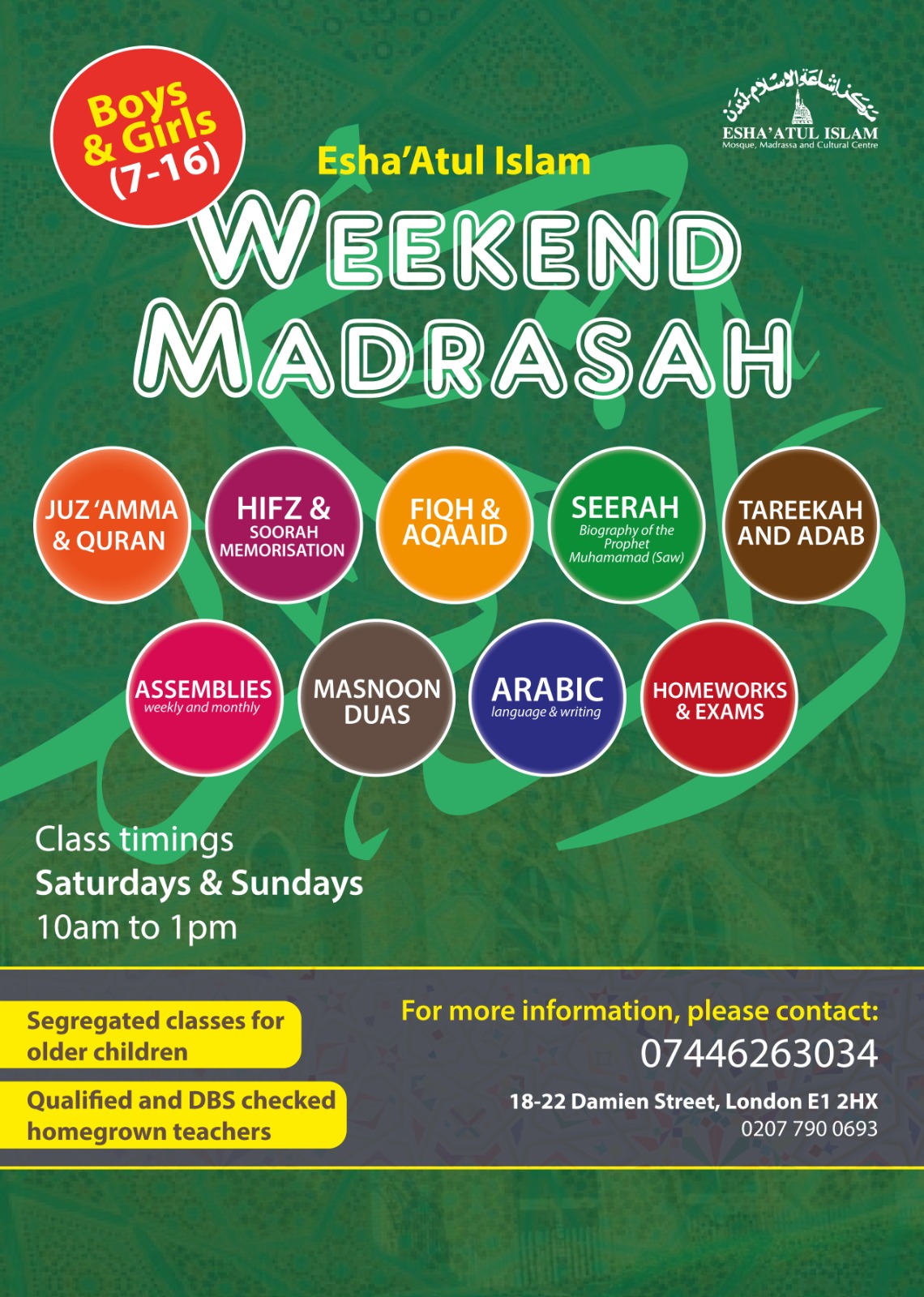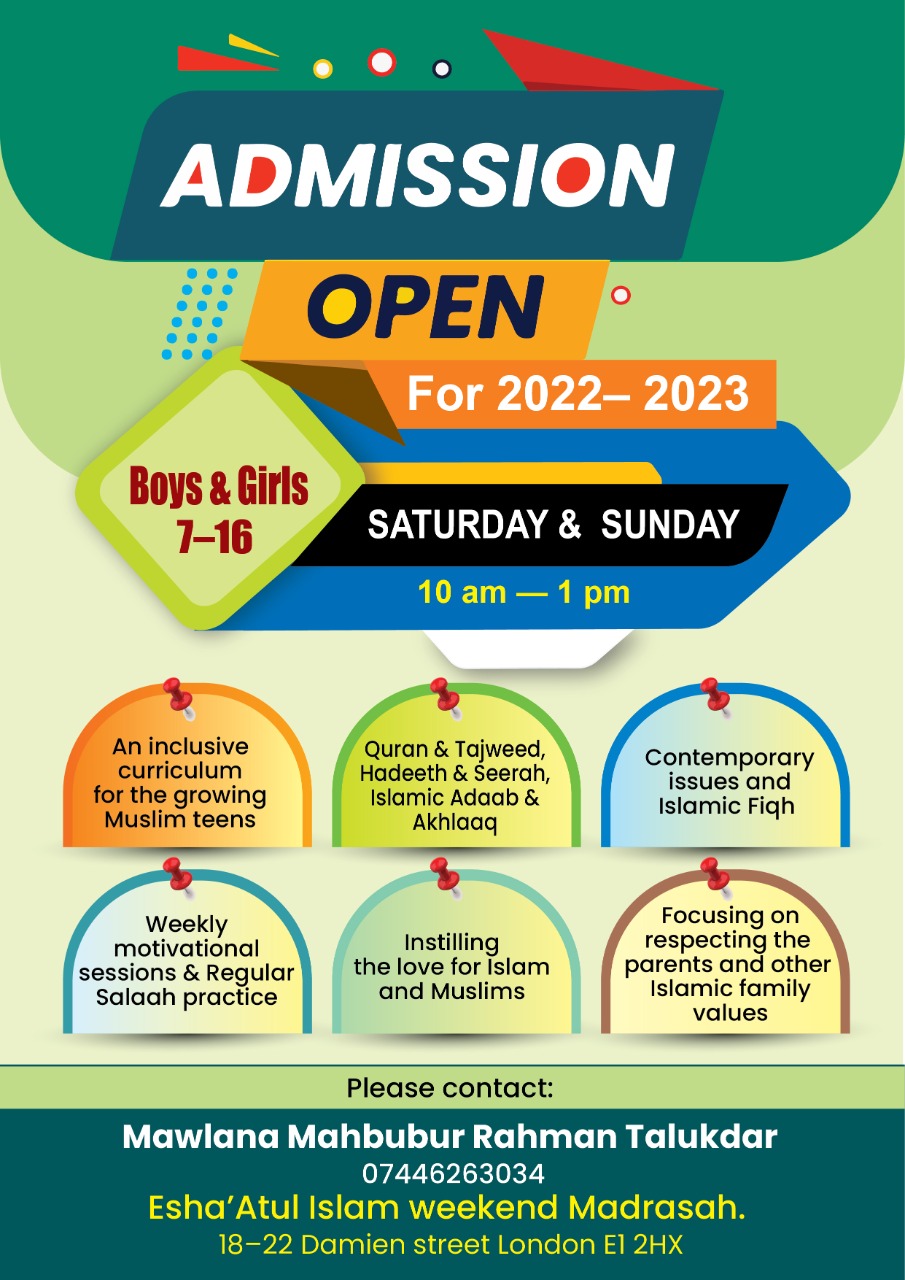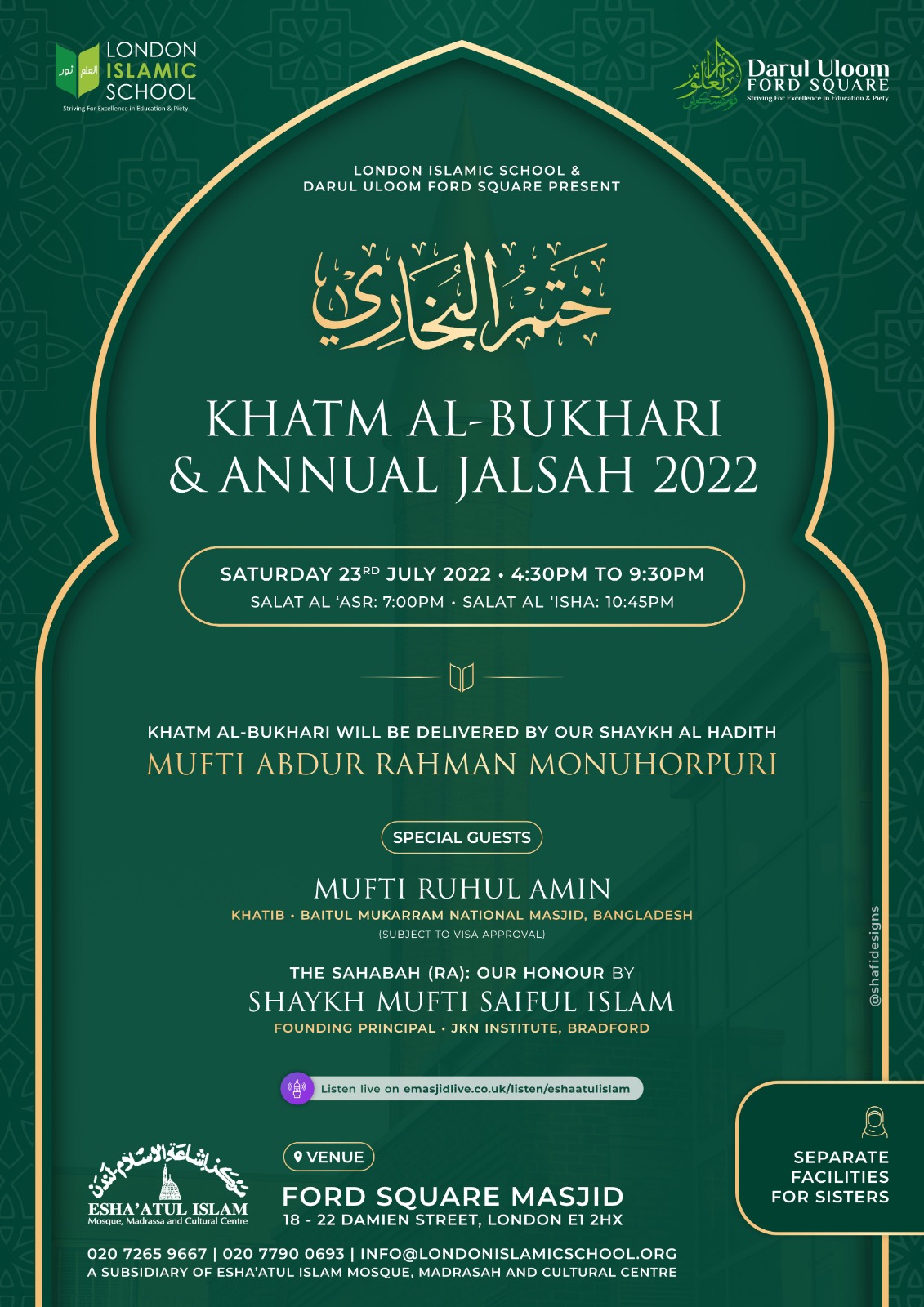 Eid ul Adha Salah Timetable 2022 (Saturday
 9th July 2022)
5.30am 1st Jamah
8.30am 2nd Jamah
9.30am 3rd Jamah
10.30am 4th Jamah
11.30am 5th Jamah
Sisters Eid Salah facility on 2nd floor of the new building via Damien Street entrance.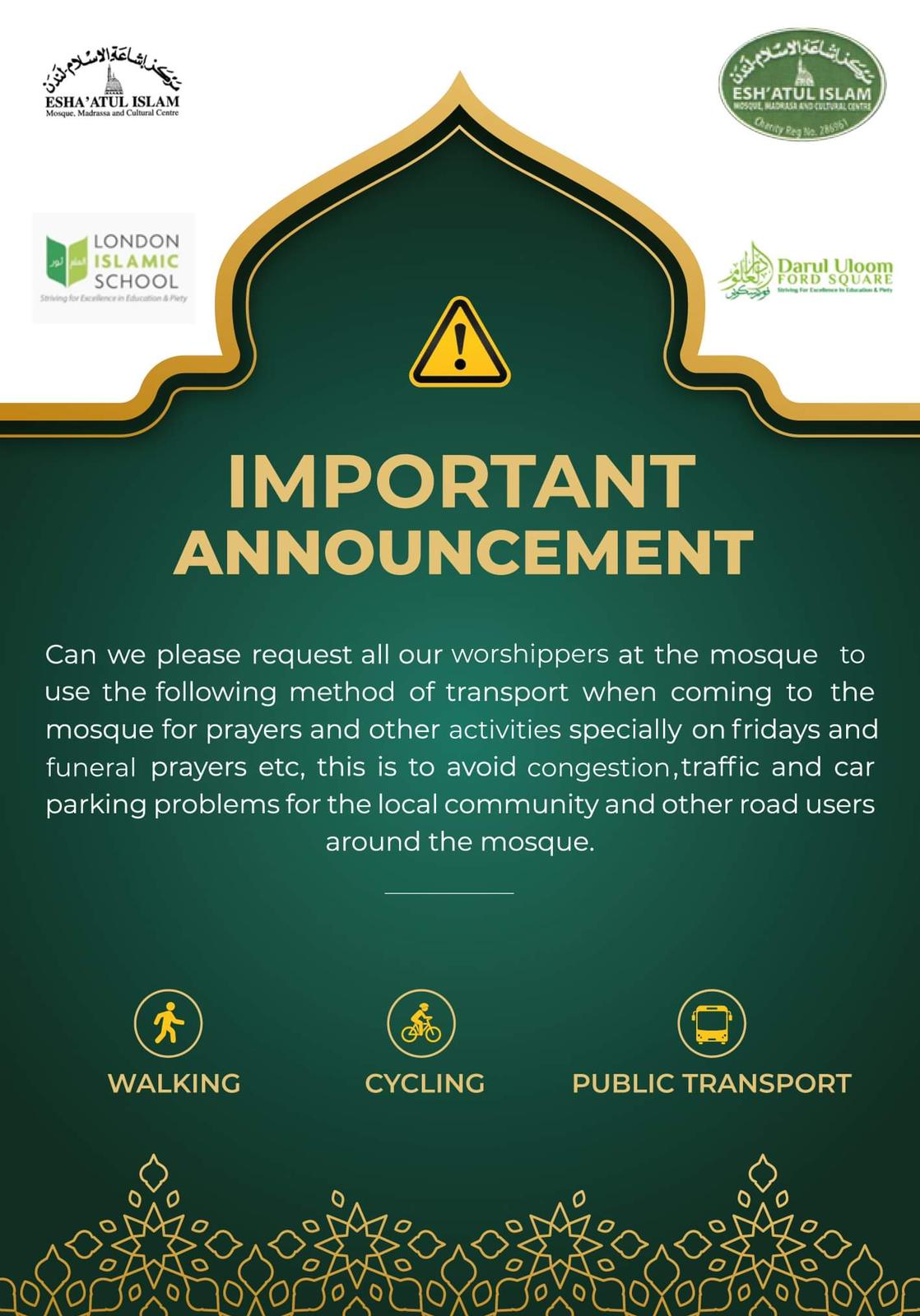 IMPORTANT ANNOUNCEMENT:
CAN WE PLEASE REQUEST ALL OUR WORSHIPPERS TO USE THE FOLLOWING MODE OF TRANSPORT WHEN COMING TO THE MOSQUE FOR PRAYERS SPECIALLY FRIDAY PRAYERS AND FUNERAL PRAYERS SO NOT TO CAUSE TOO MUCH TRAFFIC, CONGESTION  AND PARKING ISSUES IN THE MOSQUE ADJACENT AREA
*WALKING
*CYCLING
*PUBLIC TRANSPORT
Inna Lillahi Wa Inna Ilaihi Rajioon.
Hazrat Maulana Thohur Uddin Sahib passed away today after Salatul Jumah ( 12.11..2021).
He was one of the main founders and trustee of Eshatul Islam and London Islamic School for Many years and also founded Woodford Islamic Centre.
In his early years he also served at Brick Lane Jami Masjid for years.
He dedicated his life serving the community and leaves behind 5 sons and 2 daughters and 26 grand children.
We pray that almighty Allah gives him the highest status in jannah and grant sabre jameel to his family. Ameen
2021 EIDUL ADHA SALAH TIMETABLE TUESDAY 20TH JULY 2021
1ST JAMAT 6.00AM
2ND JAMAH 7.30AM
3RD JAMAH 8.30AM
4TH JAMAH 9.30AM
5TH JAMAH 11.00AM
PLEASE BRING YOUR OWN PRAYER MAT AND FACE MASK
2021 EIDUL FITR SALAH TIMETABLE:
1ST JAMAT 7.00AM
2ND JAMAH 8.00AM
3RD JAMAH 9.00AM
4TH JAMAH 10.00AM
5TH JAMAH 11.00AM
PLEASE BRING YOUR OWN PRAYER MAT AND FACE MASK
DUE TO THE 2ND LOCKDOWN THE MASJID WILL BE CLOSED FROM 5TH NOV 2020 UNTIL 3RD DECEMBER 2020.
Eid-ul-Adha Jammat 31st July 2020
There Will Be Five Jamaat for Eid-Salah
1st Jammat – 6am
2nd Jammat -8.30am
3rd Jammat -9.30am
4th Jamaat -10.30am
5th Jammat – 11.30am
Everyone must bring their own prayer mat and face mask.
SAYYID ARSHAD MADANI AND MAULANA OLIPURI VISITNG 22 JULY 2018
Maulana Sayyid Arshad Madani Sahib visitng Our Masjid after Zuhr Salah and Maulana Nurul Islam Olipuri Sahib After Asr on Sunday 22nd July 2018. Please attend and take benefit from these great scholars
ANNUAL 2018 KHATME BUKHARI JALSA
Ford Square Masjid and London Islamic School Annual Khatme Bukhari Jalsa will take place on Sunday 24th June 2018 from 4.30pm Till Salatul Maghrib.
All Brothers and Sisters are requested to attend and gain maximum benefit from this noble and special event.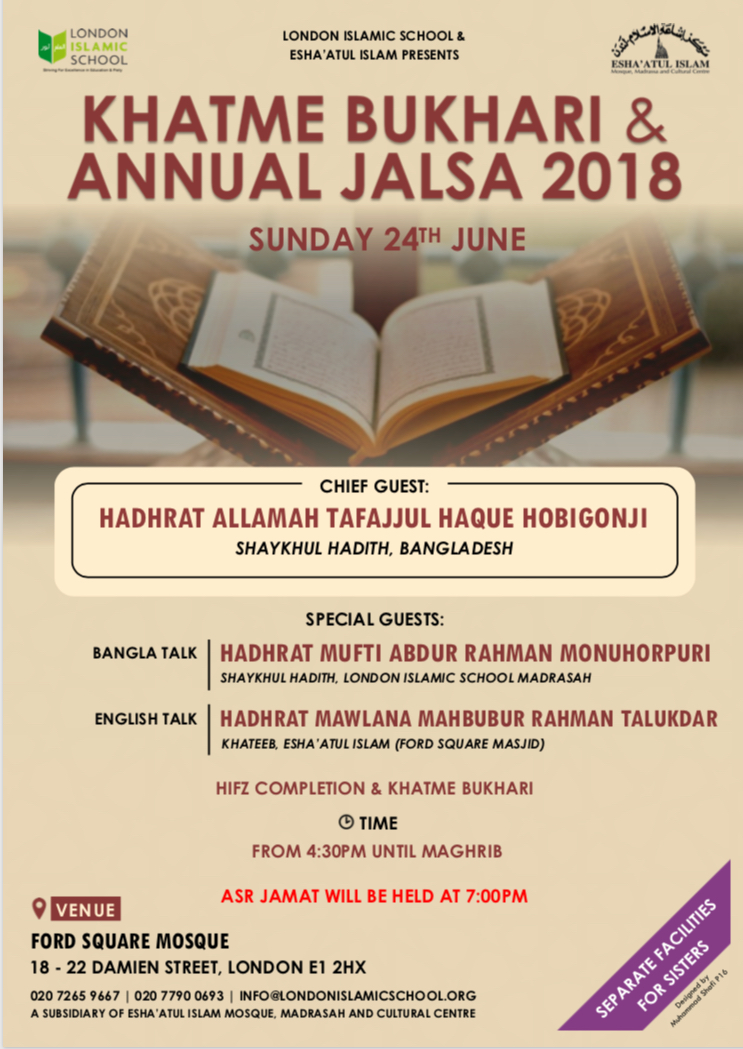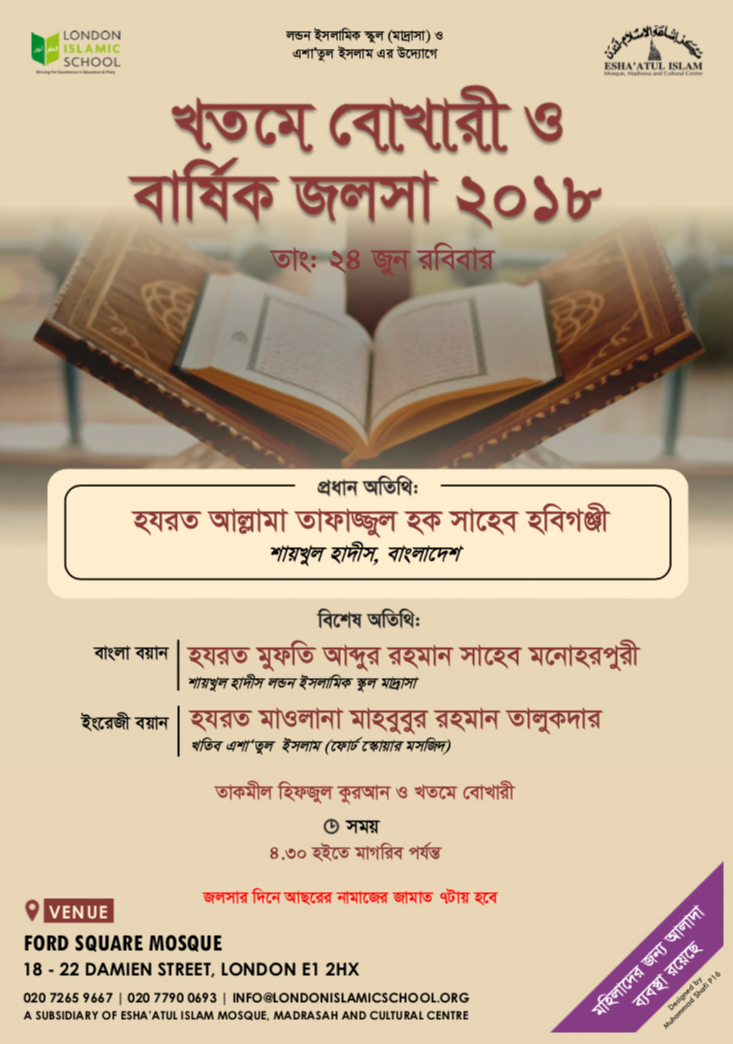 Inshahallah we will be fundraising on TVONE Sky 764 on Friday 1st June 2018 from 5pm and on ATN Bangla 746 on 10th June from 5pm.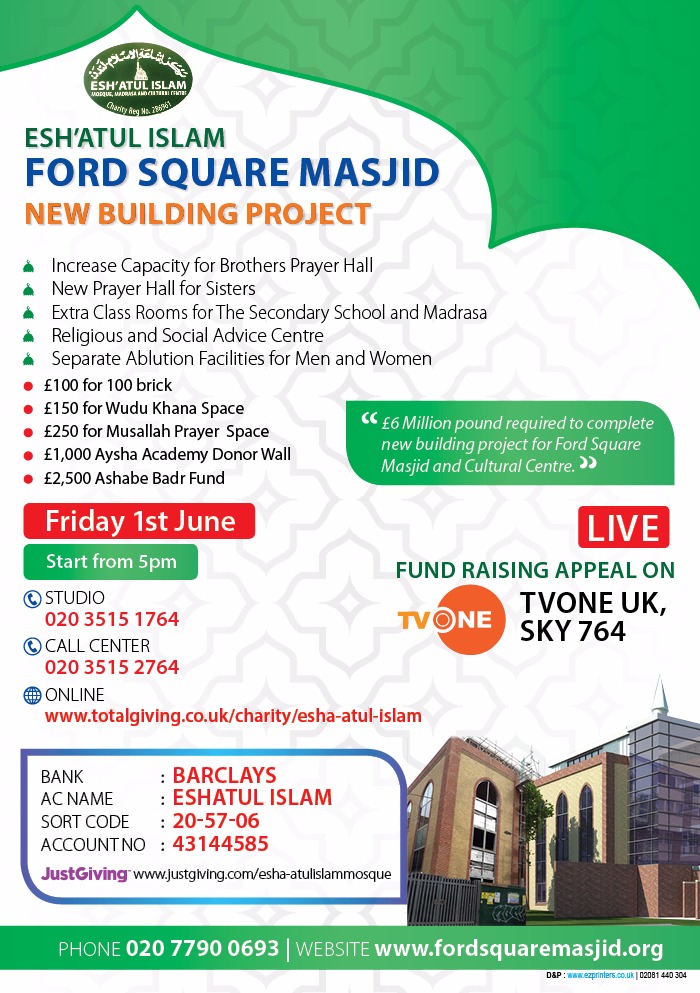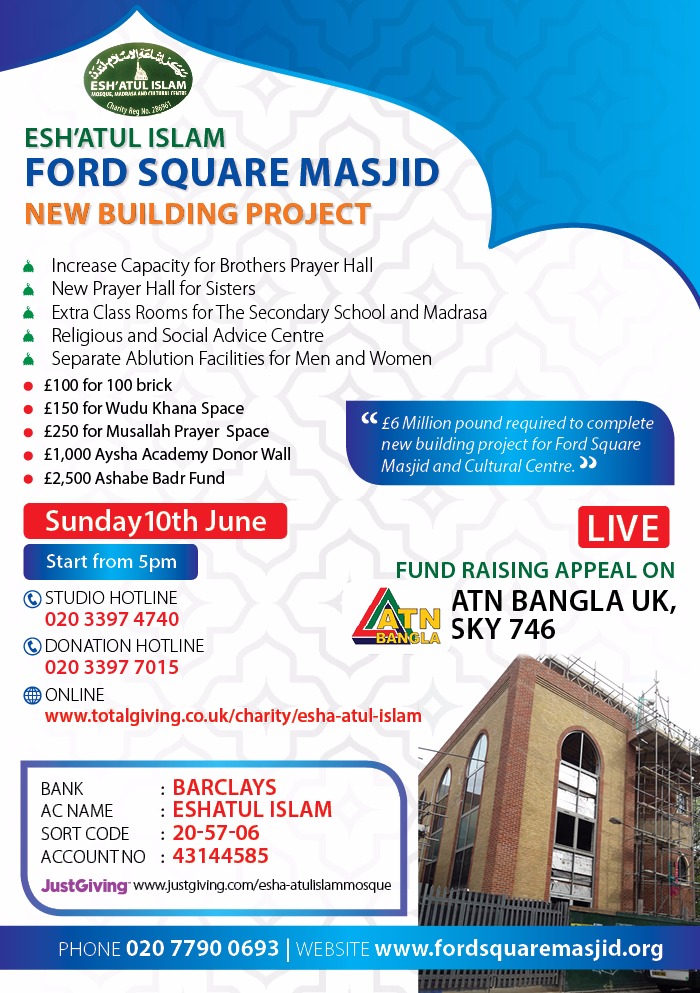 Kindly watch, support and donate as much as you can.
To Make a online donation please visit